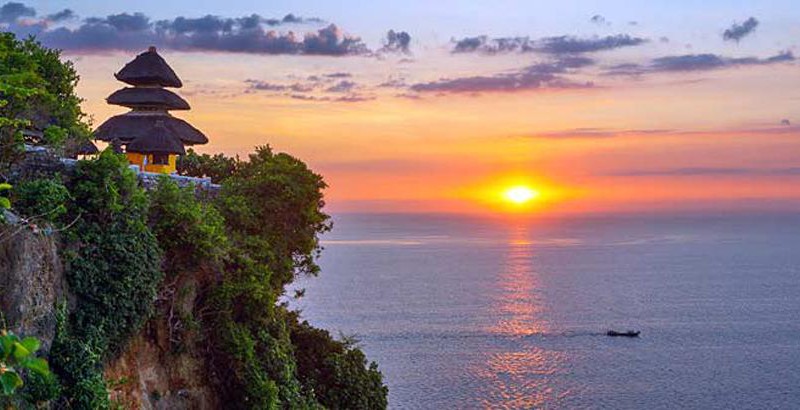 Uluwatu Temple or Pura Luhur Uluwatu is a temple located southeast end of Bali. Approximately 30 kilometres or 1 hour drive from Denpasar, and about 22 kilometres or 45 minutes drive from Kuta.
The Uluwatu Temple is one of the important temples in Bali, or   Sad Kahyangan Temples. Sad Khayangan are six main temples which are believed as the pillars of Bali. The word "Sad" was derived from Sanskrit word means "six" and "Kahyangan" means "place of Gods." Hence, "Sad Kahyangan" could be translated into six places of Gods.  Uluwatu Temple is nestled on top of a rocky cliff, about 97 metres above sea level. In Sanskrit, Uluwatu means above a rock.
The Uluwatu Temple originally used to worship a 11th century Hindu priest,  Empu Kuturan.
Then this temple is used  to worship the holy priest Dang Hyang Nirartha, who came to Bali in 1550 and ended his journey (or what is called Moksa or Ngeluhur)  in this place. The same priest who built Tanah Lot Temple.
A very high cliff facing Indian Ocean, it is one of the best places to see the beautiful sunset. Down below, is Pecatu Beach, a famous surfing hotspot..
Around Uluwatu Temple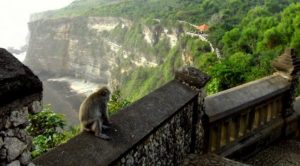 Before you enter the temple's compound, you must honor the temple's holiness by wearing a sarong if you are wearing shorts or short skirts. And wear a shawl or scarf around your waist. Also women during their menstruation period is strictly not allowed to enter the temple (not just this temple, ANY TEMPLES in Bali 🙂 ) .
The temple compound is surrounded with trees and you can walk towards the temple through steps at the edge of the cliff. Theis area is also inhabitants by groups of monkeys. Please be careful with your belongings, as they tend to steal things.
Fire Kecak Dance
You can also watch Kecak dance in Uluwatu Temple, with the ocean and sunset background. It's truly breathtaking and priceless..
The show will start around 18:00 – 18:30.  We strongly recommend you to come earlier to see the temple and the surrounding first. Then after that, it's a race to secure the perfect spot to sit. Be sure to find a perfect spot as the venue tends to fill very quickly. You can see the photo below and have the idea on where to sit 🙂  🙂 🙂 .
Be sure that you selected a tour package with Uluwatu as part of the itinerary. It will be an unforgettable memory for your Bali holiday.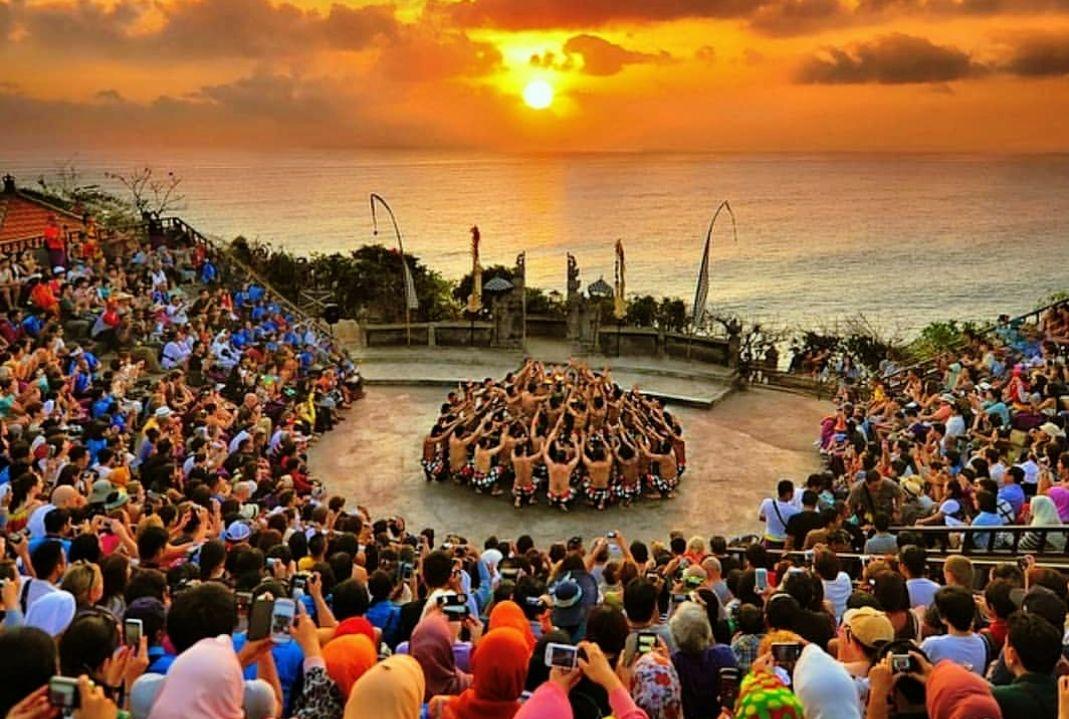 Biaya di Pura Uluwatu
| | Domestic | Foreign |
| --- | --- | --- |
| Adult | IDR 20.000 | IDR 30,000 |
| Children | IDR 10.000 | IDR 20,000 |
| Parking | IDR 5.000 | IDR 5,000 |
| Kecak Dance | IDR 100.000 | IDR 100,000 |
Tour Package
The tour package with Uluwatu as part of the itinerary is :