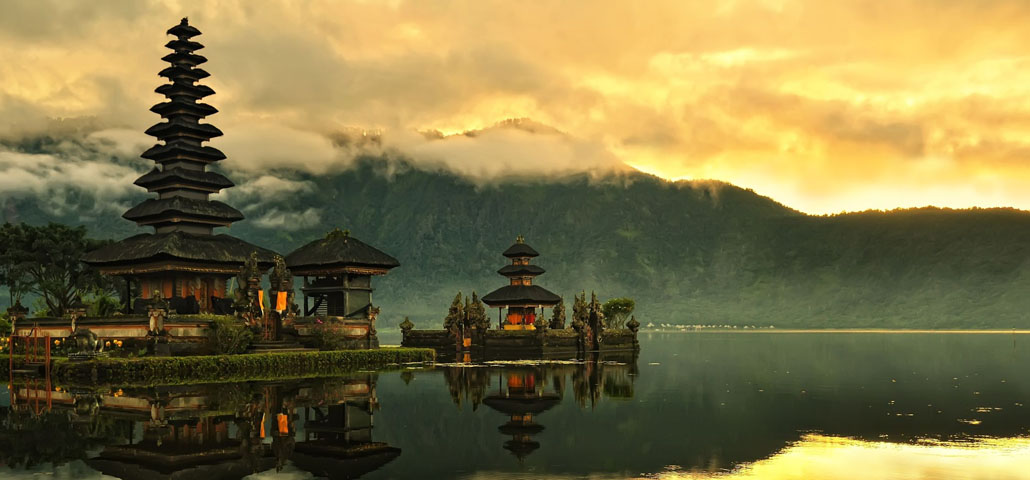 Ulun Danu Beratan Temple is a holy temple located at the tip of Lake Beratan in Bedugul tourist area, Candikuning village, Tabanan District. Going here will take from 90 minutes to 2 hours, about 59 kilometres north of Kuta. Travelling time to Bedugul took longer time because of the uphill road and also depends on the traffic conditions.
The temple sits on the west shores of Lake Beratan surounded by mountains. As a water temple, it is used to worship the water, lake and river goddess, Danu. Water temples serve the entire region in the outflow area; downstream there are many smaller water temples that are specific to each irrigation association.
Ulun Danu Beratan Temple History
According to chronicle Mengwi, I Gusti Agung Putu as the founder of Mengwi Kingdom founded the temple on the edge of Beratan Lake before he founded The Taman Ayun Temple. Not described in the manuscript when he founded The Pura Ulun Danu Bratan. But only explained about the establishment of Taman Ayun Temple which the ceremony was held on the day Anggara Kliwon Medangsia, Çaka year 1556 (1634 AD).
The 'floating' temple complex is comprised of four groups of shrines and a Buddha stupa, Penataran Temple, Dalem Purwa Temple, Taman Beji Temple, Prajapati Temple, and Lingga Petak Temple (Ulun Danu Temple)
OTHER ATTRACTIONS
The Ulun Danu Temple at Lake Bratan Bali is very famous for its beauty that has become a favorite tourist spot in Bali, around this place have also been equipped with adequate accommodation such as hotels, villas, restaurants, spacious public park, and souvenir shops.
There are also a few places to visit while you are here. Such as Eka Karya Bedugul Botanic Garden, Candi Kuning Village Fresh Market. Also there are two lakes nearby can be visited (Tamblingan and Buyan Lake).
Tour Packages
Ulun Danu Beratan temple is included in the itinerary of these tour packages: