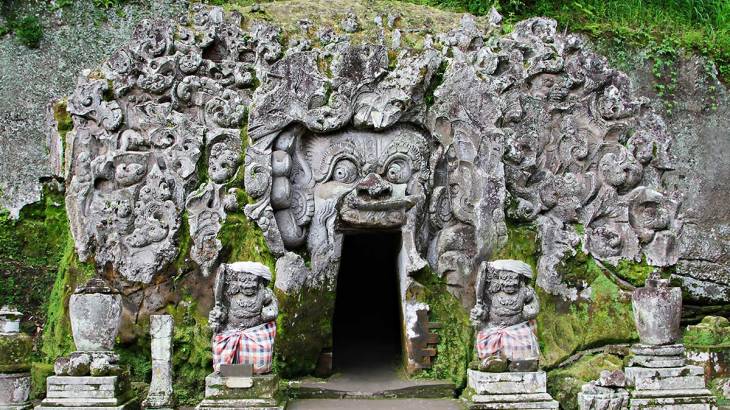 Goa Gajah Temple or Elephant Cave Temple, based on the story, is one of the ancient and oldest temple in the Hinduism and Buddhism soceity in Bali Island.  Goa Gajah temple entrance is carved to what locals believe to look like an elephant.
The temple is located in outskirt of Ubud, in  Bedulu village, Blahbatuh, Gianyar. Approximately 25 kilometeres or 40-60 minutes north of Denpasar. This tourist attraction is worth visit if you are planning to visit or stay in Ubud. 
History and Goa Gajah Temple Complex
Goa Gajah Temple itself based on the Majapahit empire notes from the year 1365 AD stated that Goa Gajah temple was built by a kingdom in Bali called Bedahulu Kingdom in the 11th century. Goa Gajah Temple or Elephant Cave Temple was used as worship by both Hindu and Buddha followers at the same time. At that time, the religion was called  Siwa-Buddha. When the Budhaism popularity started to fade, Hindu followers still use the temple as their worship place.. 
Inside the temple's complex not only there is a large cave, but other structures and statues. The source of the water is from a meeting of  two springs/rivers, what Balineese Hindu people believed to be very sacred. A statue of the god Ganesha as the protector in Hinduism, and at the other corner lies a ruins of a temple with Buddha influenced carvings on the stones.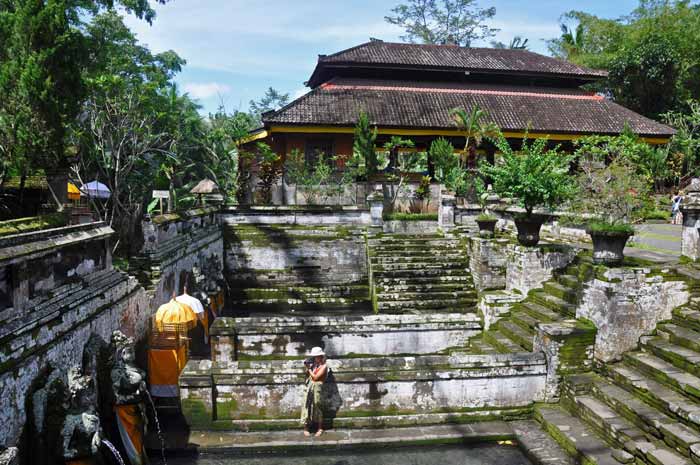 The temple complex is divided into two sections. The first section is located in the north side which is the location of the legacy of Shiva's . This is proven by the existence of Ganesha and Trilingga statue. This area is used by the Balinese Hindu people.
The second section is located in the south side where is used for Buddhism. The section also called as  Tukad Pangkung  with Buddha Stupa in Dhyani Buddha Amitabha. The Stupa is carved on stone wall.
The atmosphere from the Goa Gajah temple is filled with peace. The structure's architecture brings you back to the glorious Hindu and Buddha influenced empires. You are allowed to enter the main cave of this temple. Inside of the cave there are chambers believed to be used as a meditation place.
The temple is open for public with the exception of women during their period / menstruation are not allowed to enter to preserve the holiness of the temple.
Goiong to Goa Gajah and Tickets
To reach this tourist attraction, you can hire / rent a car or a bus, or you can book a tour . Since the location is near downtown Ubud, you can add this place to your itinerary when you visit Bali.
Entrance Ticket IDR 15.000
Car Park IDR 5.000