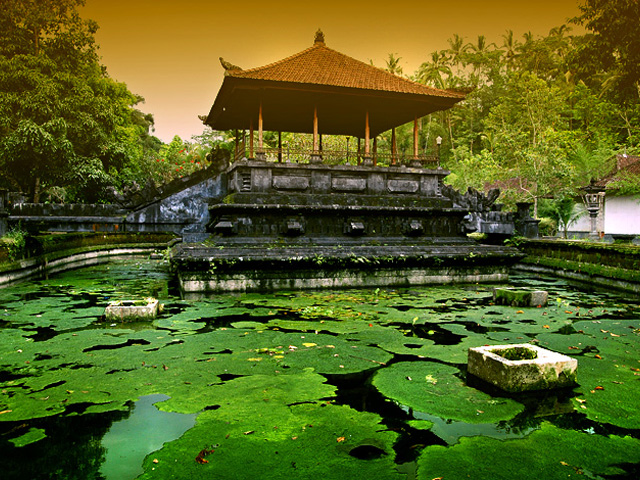 Tirta Empul Temple Tampaksiring is located in Tampaksiring, Gianyar District, 36 kilometres from Denpasar, or 50 kilometres from Kuta. This temple is one of the ancient historical site to visit in Bali. On the west side of the temple is the Presidential Palace built during the first President Soekarno administration.
Tampaksiring is visited by many tourists because the temple location is in the path of visitors returning from Ubud or Kintamani heading back south.
The History of Tirta Empul Tampaksiring
In the Tirta Empul temple, there is a spring (a holy spring) where Balinese Hindus go to for ritual purification.
The name of the temple comes from the ground water source named "Tirta Empul". The spring is the source of the Pakerisan river. The temple is erected dated 960 A.D. by King Chandra Bhayasingha during the Warmadewa dynasty (10th-14th centuries) . As like any other temples in Bali, Tirta Empul  is divided into three sections, Jaba Pura or the front courtyard , Jaba Tengah or the center courtyard, and Jaba Jeroan or inner courtyard.
There are two rectangular pools inside the center courtyard, with 30 fountains aligned from east to west and facing the south. Each of the fountain accordng to the traditions, has it's own name, such as Pengelukatan, Pebersihan, Sudamala and Pancuran Cetik (Poison).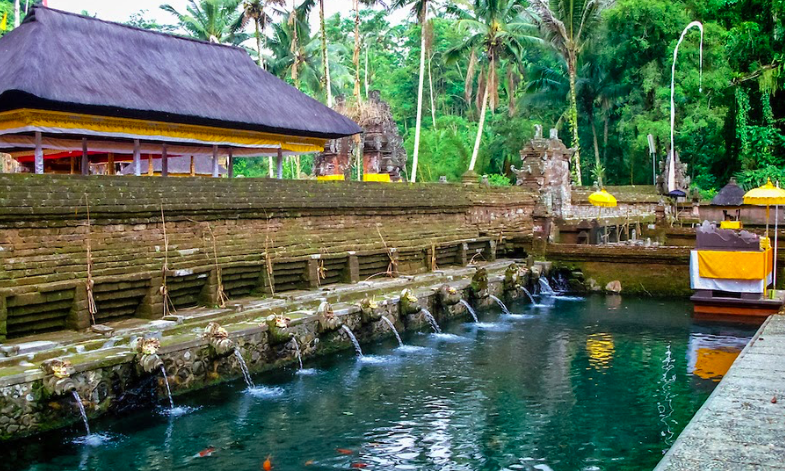 Pancuran Cetik and the name Tirta Empul have a relation with a mythology, which is the battle of Mayadenawa Raja Batu Anyar (Bedahulu) and Bhatara Indra.
The myth told that the King Mayadenawa is being arbitrarily to his people by not allowing them to cary out ceremonies to ask for safety from the gods. The gods found out what the king did, then they, led by Bhatara Indra attacked Mayadenawa.
Finally Mayadenawa has been defeated and fled to the northern side of Tampaksiring.
Mayadenawa uses his divine power to create a poisonous spring (Cetik). This spring caused many troops of Bhatara Indra died drinking that water.
Bhatara Indra realized it then he thrust his spear to the ground and then came out water (Tirta Empul). This holy water is splashed to the gods so they can be healed.
Tampaksiring Presidential Palace
Beside Tirta Empul Temple Tampaksiring,  lies a presidential palace built in 1957 – 1960 by the firt president of Indonesia, IR Soekarno as his resting place when visiting Bali.
The construction of the palace was done gradually. RM Soedarsono was the architect, Wisma Merdeka and Wisma Yudistira is the first buildings in 1957. Then in 2003, additional conference building was built for the reception of  ASEAN Summit XIV.
Tour Package
Our tour package which have Tirta Empul Empul included in the itinerary is :