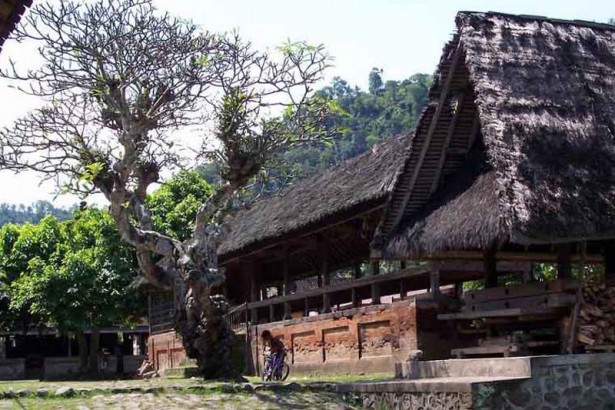 Tenganan is an ancient village in Bali, approximately 60 kilometres or 90 minutes east of Denpasar. Located in Karangasem District. As part of the ancient traditional vilages in Bali, this village already existed before the invasion of the Majapahit empire to Bali Island.  Not affected by the outside influences, Tenganan Village consistently and passed from generations. Maintain all culture and traditions from their ancestors. Even up until today, when modernization is dynamically changing, Tenganan still maintains the customary and rules (awig-awig) inherited from their predecessors. Tenganan Village is one of three villages categorized as Bali Aga. The other two villages are Trunyan Village at Kintamani and Sembiran village at Tejakule, Buleleng.
About Tenganan Village
Bali Aga are the indigenous people of Bali still maintains the rules, customary and traditions from their ancestors, long before the Majapahit empire. The village also maintains building architecture, the inner temple all designs are according to the customs passed down from generations. The villagers house characteristics, are made from red stone, river rocks, and all relaitvely have the same sizes, including the meeting hall.
In Tenganan, tourism is more easily embraced and the people are said to be more friendly
Tenganan Village Community Life
The Tenganan villagers live as farmers. Some are craftsman which produce crafts such as woven bamboo, carving, and a distinctive gringsing woven fabric. Gringsing is a  traditional woven fabric  that can only be found in Tenganan. The fabric is very unique because of the weaving technique called Double Ikat and Tenganan is the only place in Indonesia use that technique.
Another tradition of the village is Mageret Pandan atau Perang Pandan.  It is a tradition of 2 male villagers attack each other using a thorny pandan leaves. Their back will suffer wounds from the thorn, and will be cured using traditional medicine (very painful). This tradition is to train the physical and mental of the villagers. The Mageret Pandan  is held every year on mid-July.