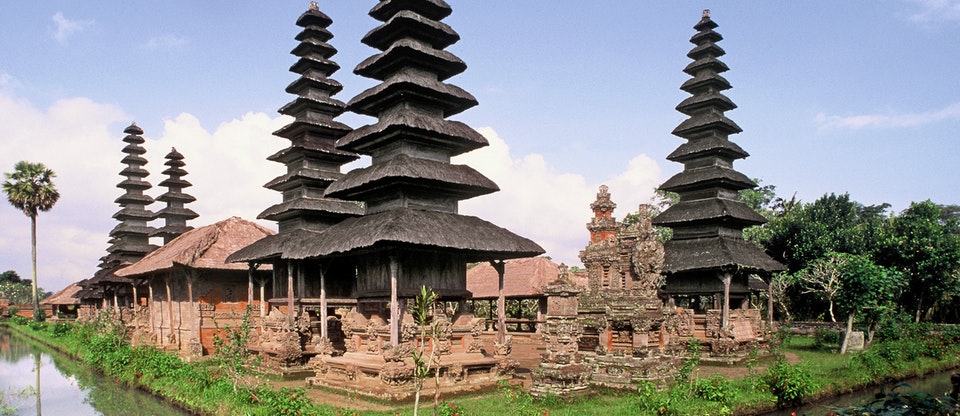 Taman Ayun Temple is the Paibon Temple or Mother Temple for the Mengwi kingdom used to worship the spirits of the king's ancestors. Also built some Meru towers used by the people of Mengwi to pray to the Gods for their prosperity.
Taman Ayun Temple is located in Mengwi, Badung district, 19 kilometres or 45 minutes northwest from Denpasar. The compound of temples and garden was the historic heritage of the Mengwi kingdom. In Balinese, Taman Ayun means beautiful garden. This 4 acres site offers a magnificent view of the ponds surrounding the temple structure.
History and Taman Ayun Temple Complex
The Taman Ayun temple was erected in 1556 Saka or between 1632 and 1634 by the King I Gusti Agung Putu. A Chineese descent of architect from Banyuwangi called Ing Khang Ghoew or also known as I Kaco, the Mengwi King's associate also helped the temple's construction.
Taman Ayun complex is arranged in three courtyard, and each is moe elevated from the outer one, . The outer court called Jaba is located in the outer side of the pond. From this courtyard there is a bridge crossing the pond to a gate of Bentar temple. Inside to the right is a large structure called Wantilan. Wantilan is used as a place for cockfighting during a ceremony. At the center is a fountain with nine waterjets, eight of the represents the cardinal and sub-cardinal points, and one at the center.The fountain is symbolizing Nawa Sanga Gods or the nine main gods.
The second courtyard of Taman Ayun temple (Jaba Tengah) is higher than the first one. Visitors must walk through a gate where lies a structure Bale Pengubengan with relief decoration portraying the Nawa Sanga Gods.
The last courtyard (Jaba Jero) is the highest and the holiest courtyard. The area only accessible when helding ceremonies consists of several Meru towers, temples, Gedong, Padmasana, Padma Rong Telu, and other religious structures.
Taman Ayun temple went through several restorations. A large scale restoration project was done in  1937. Second restoration was done in 1949 and then 1972 and 1976.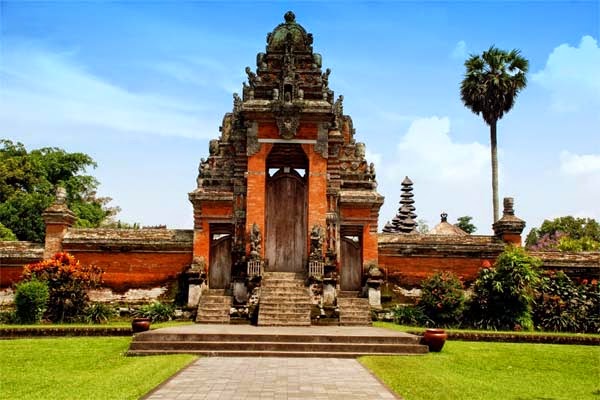 Getting to Taman Ayun
To reach Taman Ayun Temple, is usually included as a place to stop for tourists visiting Bedugul area. Other tourist attraction that included with Taman Ayun are Beratan Lake, Ulun Danu Beratan Temple, and Alas Kedaton.