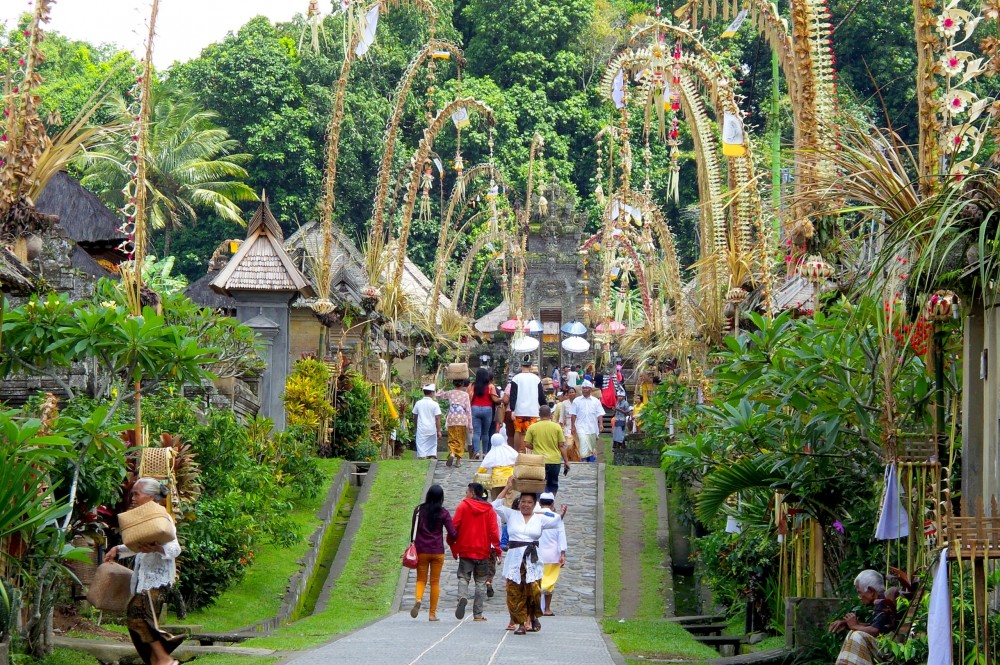 Penglipuran is a traditional village located at Bangli District, 45 kilometres or around 90 minutes drive from Denpasar. The village settled at 600-700 metres above sea level, therefor the air around it is quite cool and refreshing..
This village hold firm the customs and cultural heritage from their ancestor. Such as how they layout their houses  in the village. Penglipuran is a complex of enviromental friendly village. buildings neatly arranged with the same land size, all constructed with the same material (most are bamboo), the same architectural design, and  the same main gate (called angkul-angkul).
About Penglipuran Village
Based on the villagers story, Penglipuran village exists for 700 years, or during the Bangli kingdom. It's said that this village were resting places for Bali kings who wish to have a calm and peaceful atmosphere. Penglipuran means comfort. And if we take a look at the origins, "Pengeling Pura" is a holy place to commemmorate the ancestors.
The structuring concept of this village is tradition passed from generations to generations held strongly by the villagers. The architectural combination between Balinese traditional houses and open spaces since a long time ago created a beautiful and comfortable village. Even motorized vehicles are not allowed to pass through the village, just to keep the air clean.
At the north end of the Penglipuran village, lies a temple (Penataran Temple) for the locals to pray. Not far from the temple is a calm and quiet bamboo forest. Visitors are allowed to enter, but they cannot cut down a bamboo without the villagers permission, bad things will happen to those who did. A unique local tradition which still exists until now is polygamy is not allowed for the men. This tradition is a form of honoring women. Those who violate the tradition will be sent to a quiet holy place called 'Karang Memadu' located at the south side of the village.
Another local tradition is for those who passed away will be burried right away, and without the cremation Ngaben ceremony.